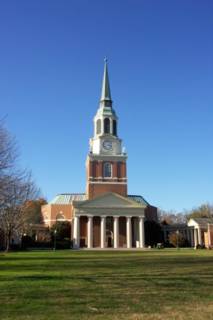 Wait Chapel at Wake Forest University (Click for a larger picture)
Today Gay and I made our last visit. We visited The Divinity School at Wake Forest for their "Discovery Day" Event. There were about 15-20 other students visiting with us. Much like Brite, the school is directly connected to the chapel pictured above. The morning started at 9 am with a presentation from the admissions director. He gave us a lot of great information on Wake Forest including admission policies, financial aid packages, and general information. This was followed by a question and answer session with a group of students. This session lasted about an hour, and I found it to be extremely informative. After this, we broke up into 2 groups to tour the campus, followed by a lunch with the dean of the Divinity School, Dr. Bill Leonard, and other staff members.
The impression I had coming into Wake Forest was entirely different with the one I left with. Wake Forest is the smallest school we visited in terms of the number of students. They limit the number of students they admit based on the amount of financial aid they can provide. They attempt to provide each student with at least 85% of their tuition through scholarships, grants, and endowments. There are a few scholarships that can provide full tuition and fees along with a living stipend. Obviously, Gay and I both found this to be very attractive. This dispelled the first misconception I had about Wake Forest: I assumed it was going to be very expensive.
The second thing I had been told about Wake Forest was that it focused on the academic more than practical ministry training. From what I observed today both from talking to the faculty and the students, the school appears to emphasize both academic and practical training. Each student is required to take a course called "The Art of Worship" for each of the three years they attend. The students plan a weekly worship service, and are required to participate in internships beginning in their second year. Students have the option of doing their internships in local churches, hospitals, Hospice, and many other diverse ministry settings. The students all thought they were getting a good balance of practical and academic training. The ministry opportunities available at Wake Forest were very similar to those offered at the other schools we visited.
We had the privilege of having lunch with Dr. James Dunn. Those of you who know him, know he can be a bit kooky, but he is a Baptist legend. Dr. Dunn is the former director of the Baptist Joint Committee on Public Affairs, and is now a professor at Wake Forest. I was a bit shocked to find out that he is doing an interim in Virginia that requires him to fly back and forth every week. This surprised me, because I think Dr. Dunn helped craft the first amendment when it was originally written. (Hardy, are you laughing?) The great thing about Dr. Dunn is that he always tells you exactly what he thinks, and we had a great lunch with him. We were able to talk to the dean, Dr. Leonard, after lunch, and we were also able to spend some more time with the director of admissions, Scott Hodgins. He told us that North Carolina CBF is located right down the street from the university, as is the local Baptist association which he described as being very CBF friendly.
Gay and I were both very impressed with what we saw at Wake Forest. Luckily, I don't have to decide right now where I am going to go to school. I'll post some more about Wake Forest and some additional pictures once I get back to Tampa.